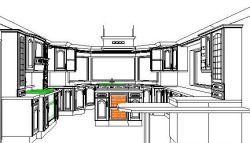 Planning your kitchen
In order to obtain a quote we need your kitchen dimensions. If it is a new house your architects plans are sufficient. If it is not we will need some basic measurements. These include the following:
1. The width, length and height of the Kitchen.
2. The size and location of all windows and doors.
3. The location of any objects in your kitchen e.g Radiators, Boilers etc.
When you visit our Kitchen Showroom you can get a quote and kitchen design completed by one of our Sales team. We can do line drawings or CAD designs of your kitchen. The CAD design can be as follows: